Carpet Cleaning FAQs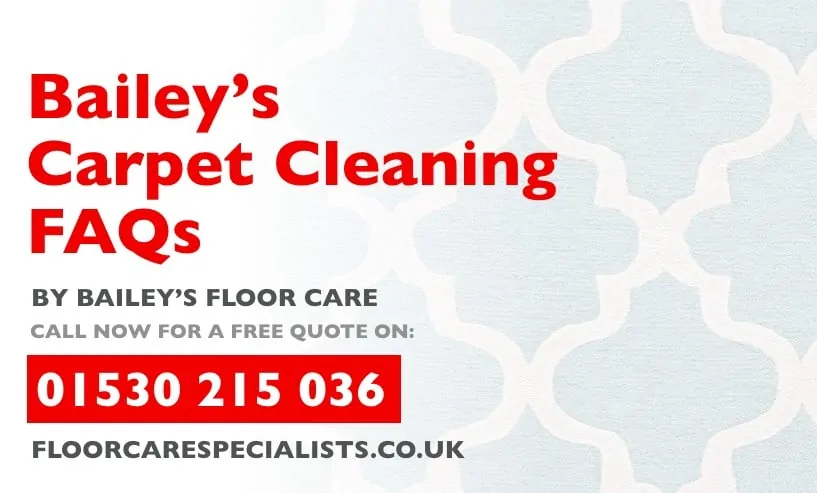 Carpet Cleaning FAQS at Bailey's Floor Care
We get a lot of questions about our carpet cleaning services here at Bailey's Floor Care – many from people who haven't necessarily used a professional carpet cleaner before, but also from those who have used other carpet cleaners in the past and not been particularly impressed with the service that they were provided with or the results that were produced. So we've decided to share the answers to these questions publicly for our readers who want to know a little more about what we offer…
Are you actually qualified to provide professional carpet cleaning?
Yes, we are. We're qualified through the IICRC (The Institute of Inspection, Cleaning and Restoration Certification), which is a standard-setting non-profit organisation for the inspection, cleaning, and restoration industries, and is an internationally recognised certification.
How does the money-back guarantee work?
Our money-back guarantee is part of our commitment to customer satisfaction. If you're in any way dissatisfied with the results we produce or the service we provide, let us know and we will re-do the job for free. And if you're still not happy, we will refund you with every penny.
Do you provide carpet cleaning in my area?
We provide carpet cleaning services in Leicestershire, Nottinghamshire, Warwickshire, Derbyshire, Northamptonshire and surrounding areas. If you're unsure about whether we cover your area, just send us a message via our contact form or give us a quick call and we'll let you know.
What makes you different from other carpet cleaners near me?
Well, a number of things probably. For starters, we're a family-run company, not a large corporation. So, we love developing relationships with other members of the local community. On top of that, our technicians are extensively trained, fully qualified and highly experienced. Our carpet cleaning services are also deep and thorough, not quick cleans.
Are you able to remove tough stains?
99% of the time… yes! We're capable of eradicating the majority of carpet stains. If there's a specific stain that you need removing and would like to know if we can assist in removing it, send us a message.
What does your carpet cleaning process actually consist of?
There are many methods of cleaning carpets and, as you would expect from a professional carpet cleaning compnay, we offer a wide range of carpet cleaning packages, ranging from dry-cleaning through to full, truck-mounted hot water extraction cleaning, AKA steam cleaning.  We'll choose the right method of carpet cleaning that is required for your carpets!
Do you have much experience?
We sure do! We've been providing professional carpet cleaning, as well as other cleaning services, since May 2000 and have cleaned the carpets of literally thousands of happy clients.
Do you offer carpet cleaning for commercial properties?
Yes, we do. We regularly provide carpet cleaning services for commercial properties in Leicestershire, Nottinghamshire, Warwickshire, Derbyshire and Northamptonshire.
How long does it usually take you to clean a carpet?
Typically, it takes us around an hour to clean 400 square ft of carpet. This can of course vary depending on a number of things, including the current state of the carpet, the furniture that needs to be moved and spotting procedures.
How soon after you've left can we walk on our carpets?
Carpets may feel slightly damp for up to 18 hours after we've left, depending on the carpet and soil conditions. This is normal and will not cause any problems, but try to keep pets, children and heavy traffic off the carpet during the drying process.
Do I need to move the furniture before you get here? If so, will you charge extra?
We want to clean every square inch of your carpets… if we can.  To do this then we need you to do a little work for us.  For liability reasons we ask you to remove the small, valuable and breakable items from the areas we are going to be working in.  We'll move the rest!  If there's a piece of furniture that you don't want us to move, perhaps you have a cabinet full of bone china that you don't want moving or if there's a heavy piece of furniture that we cannot safely move then it'll remain in place and we'll clean around it. Most carpet cleaners will charge you extra for this service, but we're happy to help out for free.
What is the carpet protection you mentioned?
We can apply an Anti-Stain protector to your carpets after we've finished the cleaning process.  This is a Scotchgard-type product that provides a protective barrier to the carpet's fibres resisting moisture from spillages, limiting the chances of stains. It also reduces wear and abrasion caused by git in the carpet, protecting your carpet from excessive matting.  A worthwhile investment!
Do you have any reviews or testimonials from past clients that I can look at?
Of course! You can check out what past clients have said about us here on our testimonials page, or you can take a look at the reviews on our Facebook page.